Press Releases
EIZO Releases New Generation 24.1-inch Color Management Monitor with USB Type-C Connection and Sustainable Packaging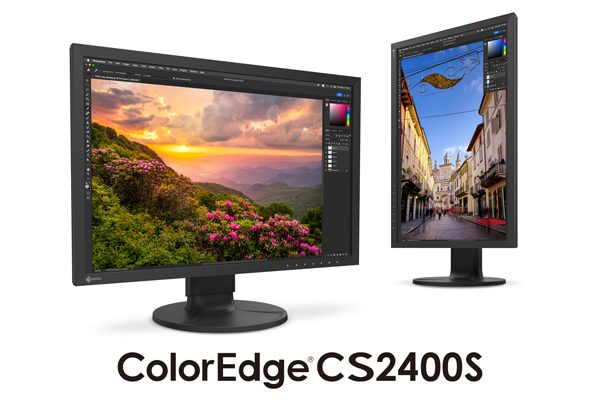 Hakusan, Japan, February 2, 2023 – EIZO Corporation (TSE: 6737) today introduced the ColorEdge CS2400S – a 24.1-inch color management monitor that is the first to usher in a new generation for the CS Series lineup. It is the successor to the ColorEdge CS2420 and features modern USB Type-C® connectivity and sustainable packaging.


The ColorEdge CS2400S is designed to meet the varying needs and budgets of aspiring creatives enthusiasts that enjoy photography, video, illustration, and design. It displays 1920 x 1200 resolution across a 24.1-inch screen and faithfully reproduces 99% of the Adobe RGB color space. Additionally, the monitor supports EIZO's free proprietary ColorNavigator 7 calibration software which ensures the screen maintains color accuracy.

The monitor is newly equipped with USB Type-C for easily connecting to a notebook PC using a single cable. Users simply plug in to start creating without excessive cable clutter or needing to reconnect multiple USB peripherals. The USB Type-C connection also supplies up to 70 W of power to a connected device, such as a tablet or notebook PC. This makes it faster and easier to connect when moving between creative work areas or when working in a remote or home studio.

The outer design features a sleek cabinet with rounded edges and a non-intrusive stand base to allow the monitor to fit comfortably in any creative environment. A carrying handle on the back allows users to easily move it to other locations.

Contributing to a more sustainable future remains an important goal for both business and consumers who are looking to manufacturers to carry out environmentally friendly initiatives. Since 2021, EIZO has been transitioning several products from its RadiForce and FlexScan product lineups to more environmentally friendly packaging as a part of its company-wide efforts. The ColorEdge CS2400S is the first monitor in the ColorEdge series to shift to more sustainable cardboard and molded pulp packaging in place of conventional styrofoam and plastics.
Additional Features
Smooth gradations with 10-bit simultaneous display from a 16-bit LUT1
Screen uniformity with patented digital uniformity equalizer (DUE) technology
USB Type-C, DisplayPort™, and HDMI® inputs
Ergonomic stand with height (155 mm), tilt (35° up, 5° down), swivel (344°), and pivot (90°) adjustment
Optional light-shielding hood that attaches magnetically
5-year manufacturer's warranty2
Availability
The ColorEdge CS2400S is now shipping. The date of availability varies by country or region. Contact the nearest EIZO group company or distributor for more details.
Product Information
About EIZO
EIZO (TSE:6737), which means image in Japanese, is a visual technology company that develops and manufactures high-end visual solutions to enrich people in their professional and personal lives. EIZO offers total imaging solutions with a range of monitors, software, video capture, processing, and distribution solutions, cameras, and advanced integrated technologies to meet the specialized needs of customers in business, creative fields, healthcare, air traffic control, maritime, security & surveillance, and more. Headquartered in Hakusan, Japan, EIZO has R&D and manufacturing facilities in Japan, China, Germany, and the United States, and representation in more than 120 countries.
1 A graphics board and software which support 10-bit output are necessary for 10-bit display.
2 Usage time is limited to 30,000 hours.
EIZO, the EIZO logo, ColorEdge, RadiForce, and FlexScan are registered trademarks of EIZO Corporation in Japan and other countries. Adobe is a registered trademark of Adobe in the United States and/or other countries. USB Type-C is a registered trademark of USB Implementers Forum, Inc. DisplayPort is a trademark of the Video Electronics Association in the United States and other countries. The terms HDMI, HDMI High-Definition Multimedia Interface, HDMI trade dress and the HDMI Logos are trademarks or registered trademarks of HDMI Licensing Administrator, Inc. All other company names, product names, and logos are trademarks or registered trademarks of their respective owners.