Press Releases
EIZO Releases USB Type-C Docking Monitors with Daisy Chain Capability for Hot Desking and Remote Working
Hakusan, Japan, July 16, 2020 – EIZO Corporation (TSE: 6737) today announced the release of the 27-inch FlexScan EV2795 and the 24.1-inch FlexScan EV2495 – two frameless LCD monitors equipped with USB Type-C for office hot desking and remote working. The monitors have a native resolution of 2560 x 1440 and 1920 x 1200 respectively.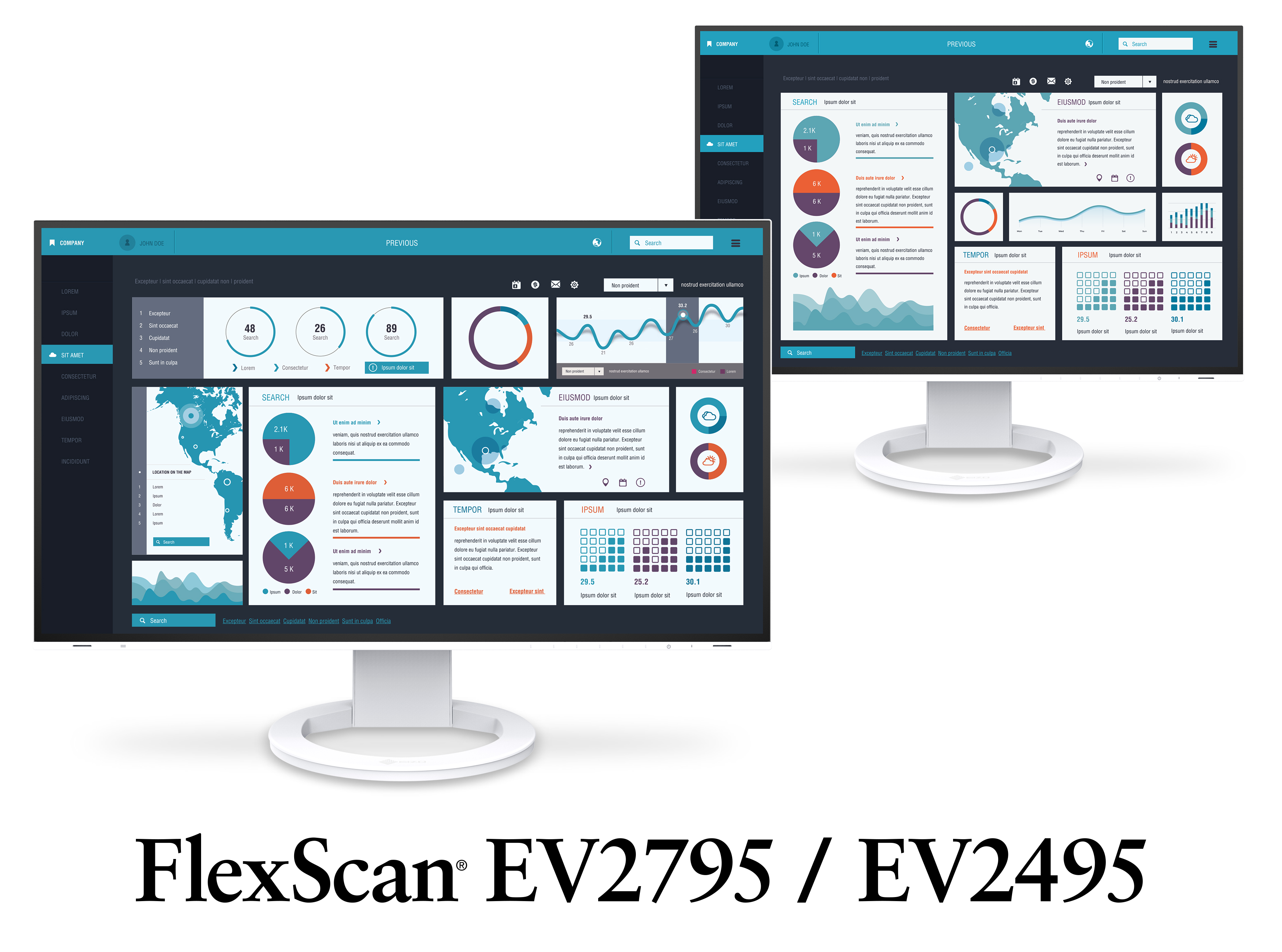 The FlexScan EV2795 and EV2495 act as docking stations when accessed via USB Type-C to promote a streamlined hot desking and remote working experience. Users can easily connect multiple monitors in a daisy chain from a single video signal via USB Type-C. This provides additional screen space for viewing multiple applications more easily while keeping the work area free of excessive cable clutter. In addition, 70 W power delivery via USB Type-C reliably charges laptop computers. Both monitors also have three USB Type-A ports for easily connecting peripherals.

While many modern laptops are not equipped with a dedicated LAN port, the monitor has one directly built in for a stable wired connection. Connecting any laptop via USB Type-C allows access to the network through the monitor. This allows users to conduct conference calls or data transfers reliably and at high speed.

The monitors implement a virtually frameless design for a minimalistic aesthetic. In addition to sleek black, the cabinet is available in white for a color option that keeps the workspace feeling bright. Furthermore, EIZO provides cables to match the cabinet for full color coordination.

The FlexScan EV2795 and EV2495 are certified by worldwide comprehensive sustainability standards including TCO Certified Generation 8, EPEAT, and EnergyStar. In addition, FlexScan monitors meet several of the categories set forth by the United Nations' Sustainable Development Goals (SDGs) for environmentally friendliness and higher work efficiency.
Additional Features
DisplayPort, HDMI
Eye care functions including flicker-free display and dimming range from 1 cd/m2
Versatile stand with height adjustment, tilt, and swivel
Low power consumption
Five-year warranty and six-month no bright pixel guarantee
Availability
The FlexScan EV2795 and EV2495 begin shipping from October and November respectively. The date of availability varies by country. Contact the EIZO group company or distributor in your country for more details.
Product Information
About EIZO
EIZO (TSE:6737), which means image in Japanese, is a visual technology company that develops and manufactures high-end visual solutions to enrich people in their professional and personal lives. EIZO offers total imaging solutions with a range of monitors, software, video capture, processing, and distribution solutions, cameras, and advanced integrated technologies to meet the specialized needs of customers in business, creative fields, healthcare, air traffic control, maritime, security & surveillance, and more. Headquartered in Hakusan, Japan, EIZO has R&D and manufacturing facilities in Japan, China, Germany, and the United States, and representation in more than 90 countries.

EIZO, the EIZO logo, and FlexScan are registered trademarks of EIZO Corporation in Japan and other countries. All other company names, product names, and logos are trademarks or registered trademarks of their respective companies.