Press Releases
EIZO Releases a New Large-Screen 4K UHD Monitor for Hybrid OR Applications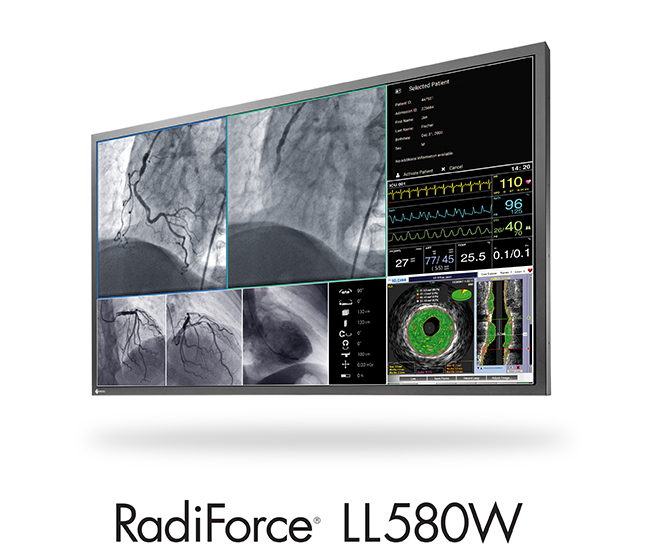 Rülzheim, Germany, November 10, 2020 – EIZO GmbH today announced the release of the new 57.5-inch 8-megapixel color monitor RadiForce LL580W for cost-effective Hybrid OR and interventional radiology usage. This 4K UHD (3840 x 2160 pixel) widescreen monitor is ideal for displaying medical images for angiography, cardiology and conventional radiology. The monitor can be attached to wall or ceiling mounts in medical environments.

The EIZO product range of large-format monitors is broadened by the addition of the LL580W, a model featuring VA panel technology with high contrast ratio. Furthermore, the LL580W offers a factory calibrated brightness and color temperature for comfortable viewing in operating rooms. The integrated stability system maintains the monitor calibrated and ensures that its visual impressions remain consistent over time.

The monitor also has an embedded Digital Uniformity Equalizer (DUE) function, which provides optimum backlight luminance uniformity over the entire screen. In addition, images are displayed on the screen in real time which adds safety to time-critical processes, such as catheter localization during arterial catherization.

The monitor is designed for effective video management. Its two Dual Link DVI-D video inputs make it compatible with EIZO's Large Monitor Manager, such as the LMM0802 and LMM56800.

EIZO carefully measures the luminance values of each monitor during production and sets all grayscales to ensure both an accurate and uniform grayscale display, and to comply with the requirements of the DICOM Part 14 standard. The monitor meets the strictest medical safety and EMC emission standards.
Availability
The production of the LL580W is planned to start in November 2020. The date of availability may vary by country and region. Contact the EIZO group company or distributor in your country or region for details.
Product Information
The below links will redirect you from the EIZO global website to the EIZO OR website.
About EIZO GmbH
EIZO GmbH is based in Rülzheim (Pfalz), Germany and is a leading manufacturer of visual display solutions for medical imaging applications. The company portfolio includes a wide range of monitors, video management systems and related accessory products. EIZO GmbH is a group company of EIZO Corporation, a global leader offering total imaging solutions with a range of monitors, software, video capture, processing and distribution solutions, cameras, and advanced integrated technologies to meet the specialized needs of customers in business, creative fields, healthcare, air traffic control, maritime, security & surveillance, and more.
For more information, please contact:
EIZO GmbH
Carl-Benz-Str. 3
76761 Rülzheim
Germany
Tel: +49 7272 9850-0
www.eizo-or.com
dt-contact@eizo.com
EIZO, the EIZO logo, and RadiForce are registered trademarks of EIZO Corporation in Japan and other countries. All other company names, product names, and logos are trademarks or registered trademarks of their respective companies.