Press Releases
EIZO Provides Windows 10 Support for All 15 of Its Touch Panel Monitors
Hakusan, Japan, April 14, 2016 – EIZO Corporation (TSE:6737) today announced that every touch panel monitor in its current lineup (15 models) now supports Windows 10. The latest drivers are now available to download from EIZO's global website.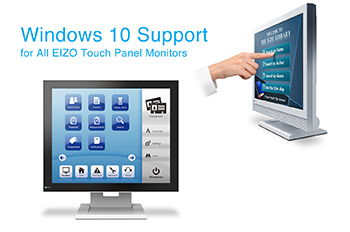 Offering swift support for new updates to an operating system ensures reliable continued use of EIZO's products. Users who have already upgraded to Windows 10 or plan to in the future, can rest assured that they can make a smooth transition with their EIZO touch panel monitor.
EIZO's lineup of touch panel monitors offer a wide range of sizes and touch technologies for meeting the specific requirements in markets such as medical, industrial, and business enterprise.
About EIZO
EIZO (TSE:6737), which means image in Japanese, is a visual technology company that develops and manufactures high-end display solutions. EIZO integrates hardware and software technologies with consulting, web hosting, and other services to help customers in business, graphics, gaming, medicine, maritime, air traffic control, and other fields work more comfortably, efficiently, and creatively. Headquartered in Hakusan, Japan, EIZO has R&D and manufacturing facilities in Japan, China, Germany, and the US, and representation in more than 80 countries. For more information, please visit www.eizoglobal.com.
All product names are trademarks or registered trademarks of their respective companies. EIZO is a registered trademark of EIZO Corporation.