Press Releases
EIZO and Phase One Collaborate to Equip Imaging Software with Self-Calibration Capability
Hakusan, Japan, September 20, 2016 – EIZO Corporation (TSE: 6737) today announced that as part of a technical collaboration, Phase One has integrated the software development kit (SDK) for EIZO's ColorEdge CG Series monitors into its Capture One Pro 9.3, the latest version of Phase One's image processing software.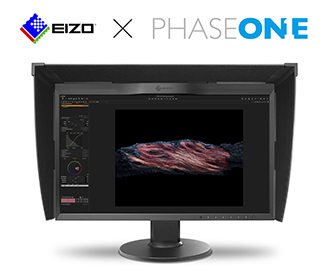 Capture One 9.3 allows users to activate the calibration sensor built into ColorEdge CG Series monitors and carry out calibration with a single click. Now customers can benefit from Capture One Pro's color profiles with color fidelity assurance of ColorEdge monitors.
Kazuhide Shimura, executive operating officer of product & business development at EIZO said, "EIZO provides optimal color precision and ease-of-use with the ColorEdge lineup so creatives have the power to express their true vision. Collaborating with Phase One has provided the opportunity to offer an even more seamless workflow to photographers with calibration done in just one click."
James Johnson, software product manager at Phase One said, "With Capture One Pro 9.3, creating monitor profiles for industry-leading EIZO monitors is easier than ever before. This capability aids photographers in navigating the potential minefield of color management, delivering an immediate, 'out-of-the-box' experience in optimal color workflow."
EIZO will be showing its line of ColorEdge color management monitors and software solutions, including Phase One's Capture One, at Photokina 2016 in Cologne, Germany from September 20 – 25. Visit Hall 4.1, Booth J011, K014 to see the products.
About Phase One
Phase One A/S is the world-leading provider of medium format digital photography systems and imaging solutions for professional photographers and industrial applications. Established in the early 1990s, Phase One is a true digital photography pioneer with a passionate commitment to image quality excellence and creative freedom. Phase One's engineering and design expertise has produced imaging breakthroughs from high-resolution camera systems to advanced software for better photographer workflows and raw file editing.
For more information about Capture One, please contact:
Kathy Madison
MADISON Group PR
Phase One Worldwide
kathy(at)madisonpr(dot)com
About EIZO
EIZO (TSE:6737), which means image in Japanese, is a visual technology company that develops and manufactures high-end display solutions. EIZO integrates hardware and software technologies with consulting, web hosting, and other services to help customers in business, graphics, gaming, medicine, maritime, air traffic control, and other fields work more comfortably, efficiently, and creatively. Headquartered in Hakusan, Japan, EIZO has R&D and manufacturing facilities in Japan, China, Germany, and the US, and representation in more than 80 countries. For more information, please visit www.eizoglobal.com.
All product names are trademarks or registered trademarks of their respective companies. EIZO and ColorEdge are registered trademarks of EIZO Corporation. Phase One and Capture One are registered trademarks of Phase One A/S.