Press Releases
EIZO Introduces 10 MP Widescreen Digital Mammography Monitor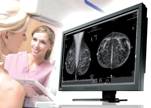 Karlsruhe, Germany, July 9, 2010 – EIZO GmbH, Display Technologies today announced the RadiForce GX1030, a new widescreen 10 megapixel monochrome monitor for digital mammography and PACS (Picture Archiving and Communication System) applications.
The RadiForce GX1030 features a native 4096 × 2560 resolution on a 30 inch screen. The monitor is ideally suited for displaying digital mammography or other large and finely detailed DICOM (Digital Imaging and Communications in Medicine) images.
With its widescreen format, the RadiForce GX1030 is an optimal replacement for traditional dual head 5 MP monitor installations. The consistent color point and bezel-less configuration of a single monitor serve to reduce eye fatigue for the radiologist while lowering the administrative and QA costs for the operator. With the unobstructed viewing space, applications can offer greater hanging protocol flexibility for richer comparisons between past and present images.
Thanks to its unique Mono-Pixel design the RadiForce GX1030 offers exceptionally high brightness levels and brings out the finest details with a smooth, clear representation. The monitor is offered in both clear and blue base versions, thus catering to the individual preferences of different users.
Like all the other EIZO medical monitors, each RadiForce GX1030 unit is calibrated at the factory to ensure compliance with medical standards such as DICOM Part 14. These gamma settings, including the grayscale tones and brightness levels are stored in five independent look up tables (LUTs) directly in the monitor, allowing one to easily adapt to local viewing conditions by selecting the desired LUT through the CAL Switch button on the front panel. Furthermore, the monitor features Digital Uniformity Equalizer (DUE) function which allows users to compensate for brightness non-uniformity that is characteristic of all LCD panels.
The RadiForce GX1030 has a 12-bit look-up table that produces a palette of 4,096 grayscale tones from which 8-bit (256 tones) or 10-bit (1,024 tones) can be displayed simultaneously. This feature extends grayscale fidelity to the boundaries of human visual perception abilities and helps radiologists discern the finest nuances within an image.
The monitor supports various input signals including single link, dual link, as well as packed-pixel signal enabling it to be used with a wide range of commercially available graphics cards. This allows vendors to optimize for cost and tailored performance.
EIZO's fully automated stability function makes use of the internal backlight sensor to quickly stabilize the brightness level at startup and to compensate for fluctuations caused by ambient temperatures and the passage of time. In addition to the internal backlight sensor, the RadiForce GX1030 sports an Integrated Front Sensor to provide independent verification measurement of the grayscale response at the front surface of panel. Located underneath the display bezel, the Integrated Front Sensor does not interfere with the viewing area and is protected from inadvertent damage or removal.
The RadiForce GX1030 comes with an internal test pattern generator that lets users visually review the monitor's quality at the push of an OSD button without the need for specialized software or hardware. When used with the accompanying QC software package, the backlight sensor and the Integrated Front Sensor can serve as cornerstones for an efficient local quality assurance solution. They can be used to calibrate the monitor to targeted grayscale tone and brightness settings or to schedule automatic testing procedures that run in the background and document the monitor's quality e.g. on a daily basis. Finally, the software package also functions with optional photometers, allowing correlation of the internal sensors to precise external references and quick and easy methods for calibrating grayscale tone response and luminance uniformity in the field.
The RadiForce GX1030 was engineered to dissipate heat without a fan, thus keeping distracting noises out of the reading environment and increasing its overall reliability. The monitor complies with stringent medical, safety, and EMC emission standards and is backed up by a long-term five year warranty. In addition, EIZO's quality management system for medical devices is ISO 13485 certified.
Availability
Mass production of the RadiForce GX1030 is scheduled for at the end of this year. Availability varies by country so please contact the EIZO subsidiary or distributor in your country for details.
About EIZO GmbH
Based in Karlsruhe, Germany, EIZO GmbH, Display Technologies is a leading manufacturer of monitor products for medical imaging applications. The company's lineup includes color and grayscale monitors from 1 to 8 megapixels, calibration tools, and graphics boards. EIZO GmbH is a subsidiary of Eizo Nanao Corporation, a leading global manufacturer of high-end display monitors for medical, graphics, financial, and other markets.
For more information, please contact:
EIZO GmbH
Display Technologies
Siemensallee 84
76187 Karlsruhe
Germany
Phone: +49 721 20321-0
Fax: +49 721 20321-474
http://www.eizo.eu
dt-contact@eizo.com
EIZO and RadiForce are registered trademarks of Eizo Nanao Corporation.