Press Releases
EIZO Releases Eco-Friendly 3 Megapixel Monitor Optimized for Performance and Accuracy in Hybrid Medical Image Viewing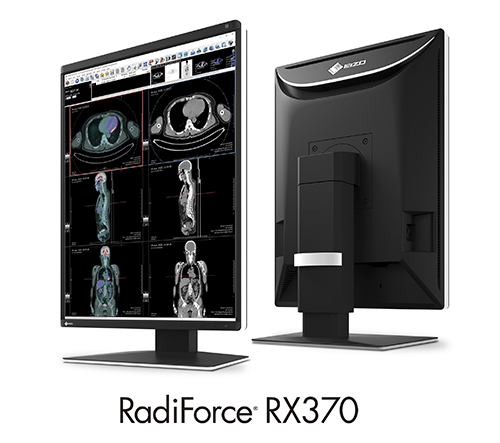 Hakusan, Japan, June 1, 2021 – EIZO Corporation (TSE: 6737) today announced the release of the RadiForce RX370, a 21.3-inch 3 megapixel color medical monitor ideal for viewing monochrome and color medical images. It is the successor model to the RadiForce RX360.

The RX370 retains the high performance and rich features of its predecessor, such as DICOM Part 14 compliance and optimization of each pixel in monochrome and color images for hybrid display. This makes it ideal for accurate viewing of PACS images such as grayscale X-ray, CR, and DR, as well as color images such as 3D rendering and image fusion.

The monitor is equipped with EIZO's new Instant Backlight Booster function which temporarily maxes the brightness of the monitor to approximately 1100 cd/m2 for making detailed medical images easier to see in an instant. The brightness automatically returns to its original setting after a short period so the user can continue to use it under typical viewing conditions.

As part of EIZO's efforts to care for the environment, the RX370 is the first of EIZO's products to use molded pulp in its packing material. Molded pulp is made from recycled cardboard and newspaper and has less of an impact on the environment when disposed of compared to conventional styrofoam or plastic. EIZO aims to continue this and other responsible manufacturing practices to maintain high product quality, while keeping the environment in mind.
Additional Features
Built-in calibration sensor for maintaining consistent display characteristics
Work-and-Flow functions for streamlined medical image reading
DisplayPort connection with daisy chain support for multi-monitor environments
Availability
The RadiForce RX370 will begin shipping from June 2021. Date of availability varies by country so contact the EIZO group company or distributor in your country for details.
Product Information
About EIZO
EIZO (TSE:6737), which means image in Japanese, is a visual technology company that develops and manufactures high-end visual solutions to enrich people in their professional and personal lives. EIZO offers total imaging solutions with a range of monitors, software, video capture, processing, and distribution solutions, cameras, and advanced integrated technologies to meet the specialized needs of customers in business, creative fields, healthcare, air traffic control, maritime, security & surveillance, and more. Headquartered in Hakusan, Japan, EIZO has R&D and manufacturing facilities in Japan, China, Germany, and the United States, and representation in more than 100 countries.

EIZO, the EIZO Logo, and RadiForce are registered trademarks of EIZO Corporation in Japan and other countries.