Press Releases
EIZO Awarded EU RO MR Type Approval Certificate for Maritime Monitors by LR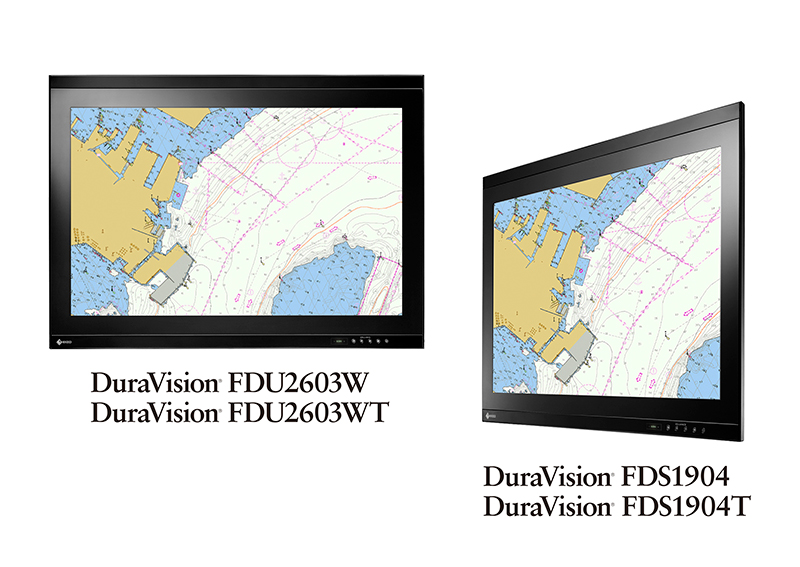 Hakusan, Japan, June 2, 2020 – EIZO Corporation (TSE: 6737) announced that it has received EU RO MR (European Union Recognized Organization for Mutual Recognition) Type Approval for its 19 and 25.5-inch DuraVision maritime monitors by LR (Lloyd's Register).

Under the EU RO MR scheme, Type Approval Certificates awarded by any member organization are mutually recognized by 12 major maritime classification societies. The certificate covers technical requirements mutually agreed upon by the EU RO Group for equipment intended to be used in ships. This ensures consistency in standards of quality and operational requirements across classification worldwide and provides an efficient means of confirming the qualifications of individual components to be installed in maritime systems.

EIZO's current line of ECDIS (Electronic Chart Display and Information System) monitors (listed below) were awarded the certificate. These monitors are built specifically for harsh maritime conditions and are calibrated at EIZO's own factory to meet the highly specialized requirements of ECDIS systems. EIZO offers optional optical bonding for each model which is also produced in-house.

Fumio Kure, General Manager at Marine & Offshore, Japan commented: "We are proud that LR was able to issue this certificate at this time as we had to rely on remote surveying capability for the approval as surveyor attendance was hindered by COVID-19 challenges. EIZO monitors are widely known for their performance and quality. Having obtained EU RO MR Type Approval certificate in addition to LR class type approval, we expect that EIZO will play a more active role in European markets."

Kazuhide Shimura, Executive Operating Officer at EIZO Corporation added: "Meeting requirements for major maritime classifications such as LR is extremely important in demonstrating that our products are proven for use in harsh environments. EU RO MR ensures that EIZO continues to provide a high degree of customer assurance to system integrators and end users in the maritime market, regardless of their location."

Approved Monitors:
EU RO MR Group Members
Lloyd's Register Group Ltd. (LR)
American Bureau of Shipping (ABS)
Bureau Veritas Marine & Offshore SAS (BV)
China Classification Society (CCS)
Croatian Register of Shipping (CRS)
DNV GL AS (DNV GL)
Indian Register of Shipping (IRS)
Korean Register (KR)
Nippon Kaiji Kyokai General Incorporated Foundation (NK / ClassNK)
Polski Rejestr S.A. (PRS)
RINA Services S.p.A. (RINA)
Russian Maritime Register of Shipping (RS)
About EIZO
EIZO (TSE:6737), which means image in Japanese, is a visual technology company that develops and manufactures high-end visual solutions to enrich people in their professional and personal lives. EIZO offers total imaging solutions with a range of monitors, software, video capture, processing, and distribution solutions, cameras, and advanced integrated technologies, to meet the specialized needs of customers in business, creative fields, healthcare, air traffic control, maritime, security & surveillance, and more. Headquartered in Hakusan, Japan, EIZO has R&D and manufacturing facilities in Japan, China, Germany, and the United States, and representation in more than 90 countries.
About Lloyd's Register
We started out in 1760 as a marine classification society. Today, we're one of the world's leading providers of professional services for engineering and technology – improving safety and increasing the performance of critical infrastructures for clients in over 75 countries worldwide. The profits we generate funds for the Lloyd's Register Foundation, a charity which supports science and engineering-related research, education and public engagement around everything we do. All of this helps us stand by the purpose that drives us every single day: Working together for a safer world.

In a world of increasing complexity – overloaded with data and opinion – we know that our clients need more than technology to succeed. They need an experienced hand. A partner to list, cut through the noise and focus on what really matters to them and their customers. Our engineers and technical experts are dedicated to assurance. That means a commitment to embracing new technology, and a deep-rooted desire to drive better performance. So, we consider our customers' needs with diligence and empathy, then use our expertise and over 250 years' experience to deliver the smart solution for everyone.

After all, there are some things technology can't replace.

EIZO, the EIZO Logo, and DuraVision are registered trademarks of EIZO Corporation in Japan and other countries. All other company names, product names, and logos are trademarks or registered trademarks of their respective companies.