Press Releases
EIZO Releases Two 4K Encoding & Streaming Solutions Featuring the Industry's Highest Lossless Compression Ratio for ATC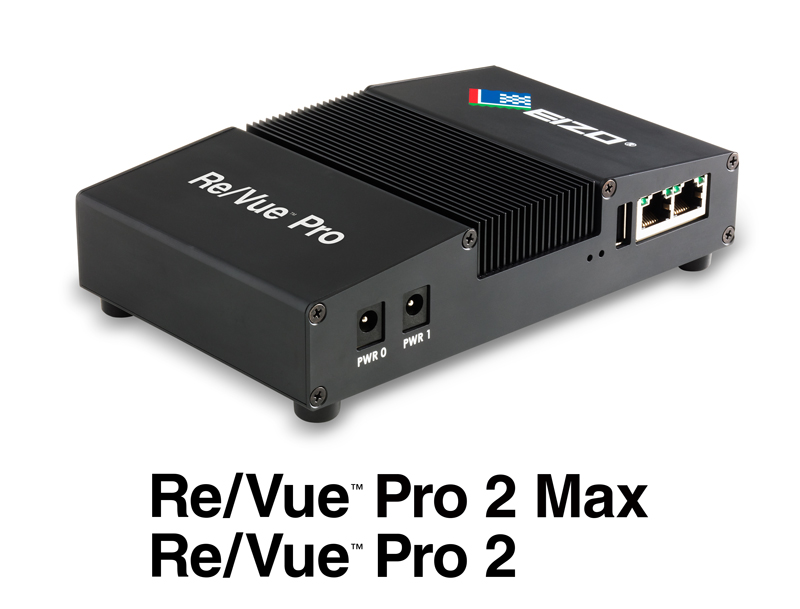 Altamonte Springs, Florida, USA, October 29, 2020 – EIZO today announced the release of the Re/Vue Pro 2 and Pro 2 Max – two single-channel, lossless video encoding & streaming solutions for ATC (air traffic control).

The Re/Vue Pro 2 and Pro 2 Max are equipped with a DisplayPort interface for the synchronous encoding & streaming of up to 4096 x 2160 resolution. The Re/Vue Pro 2 Max is additionally equipped with a DVI interface which supports up to 2048 x 2160, as well as an audio jack for supporting synchronized recording of an associated audio source.

Both solutions feature a true lossless compression ratio of 10,000:1 to 40,000:1 for typical ATC data – the highest in the industry. This high compression ratio minimizes the bandwidth needed to send data over a network, as well as the required storage when used as a component of a recording solution. They encode each frame at the full monitor refresh rate and effortlessly stream ATC applications at 60 fps (frames per second) in most viewing environments. Additionally, framerates can be easily configured to balance image quality with data size according to end user needs.

Dual Ethernet connectors and power supplies provide extra protection to ensure continued operation. The Re/Vue Pro 2 and Pro 2 Max stream video without modifying the signal using a video bypass mechanism to ensure that connected monitors continue to receive data even if power is disrupted. They also implement SNMP Version 1 and 3 for enhanced authentication and data encryption. In addition, EIZO's proprietary encoding algorithm ensures that video data can only be viewed using EIZO-provided applications and decoder libraries.

Administrators can manage both solutions through the Lights Out Configuration 3 (LOC3) utility that provides access to settings and controls for flexible management of the Re/Vue network from a centralized location. LOC3 allows administrators to set the display orientation to landscape or portrait mode so that the video is streamed in the correct format for replay.

Re/Vue Pro 2 and Pro 2 Max can be seamlessly integrated into third party solutions, such as those provided by ATC system integrators and recording solution providers. The solutions are entirely independent from the operating system and graphics card, so they are unaffected by changes that may occur to the system. They can also be used with EIZO's SafeGuard integrated data capture & content management solution for a reliable end-to-end system. These solutions used together provide a highly secure archive that is built specifically to meet customer needs in areas of data management, analysis, and distribution for control centers, towers, and training & simulation facilities.

The Re/Vue Pro 2 and Pro 2 Max feature an improved design that allows heat to escape efficiently without a fan, keeping its internal temperature within safe operating tolerances even during long periods of use.
Availability
The Re/Vue Pro 2 and Pro 2 Max are now available. Please contact atc@eizo.com for details.
Product Information
About EIZO
EIZO (TSE:6737), which means image in Japanese, is a visual technology company that develops and manufactures high-end display solutions. EIZO integrates hardware and software technologies with consulting, web hosting, and other services to help customers in business, graphics, gaming, medicine, maritime, and other fields work more comfortably, efficiently, and creatively. Headquartered in Hakusan, Japan, EIZO has R&D and manufacturing facilities in Japan, China, Germany, and the US, and representation in more than 90 countries.


EIZO, the EIZO Logo, Re/Vue, and SafeGuard are trademarks or registered trademarks of EIZO Corporation in Japan and other countries. All other company names, product names, and logos are trademarks or registered trademarks of their respective companies.